CARRY OUT AND DELIVERY (CURBSIDE AND CONTACTLESS UPON REQUEST) UNTIL WE CAN SAFELY REOPEN OUR DINING ROOM
CALL (520) 398-2397 TO PLACE YOUR ORDER
HOURS ARE FROM TUESDAY TO SATURDAY 12-6PM
WE CAN DELIVER ALCOHOLIC BEVERAGES WITH FOOD PURCHASE PER GOV DUCEY'S EXECUTIVE ORDER
WISDOM'S CAFE


tumacacori, az

HOME OF THE WORLD FAMOUS FRUIT BURRITO
& award-winning margaritas

MENU
Call us for alcohol delivery prices including beer, wine by the bottle, margaritas

Tuesday - Saturday 12-6pm carry out/delivery from our regular menu
Special cold/frozen menu preorder Tuesday - Friday 12-2pm for next day or 2nd day delivery
COLD/ FROZEN MENU
$5 per delivery
Pre-pay over the phone when ordering (520) 398-2397
Your order won't include silverware unless requested
Fruit burros we will make to order and you can reheat in microwave $9 each
Apple
Blueberry
Cherry
Peach
Coconut~creme
Chips to go box for 4 people $3 (we will make these fresh to deliver to you)
Salsa 1 pint for 8-12 people $6.95
DOS medium
DOS hot
Wisdom's red enchilada sauce
Wisdom's green tomatillo sauce
Chiltecream sauce
Tartar sauce
Chipotle sauce
Guacamole 1 pint for 8-12 people $10.95
Bacon wrapped shrimp app with BBQ sauce by the order (six shrimp) $12.50
Tamales frozen one dozen of one kind $50 OR one half dozen of one kind $30
calabacitas
vegan calabacitas
vegan green corn
green corn
red beef
Rellenos frozen one dozen $50 or a half dozen $30
Our meats are packed with enough for 6 people $20
Shredded beef
Shredded turkey
Grilled chicken
Carne Asada
Birria
Spicy Ground Beef
Sopas by the pint for two people $15
Tortilla Soup
Poblano Soup
Red Bell pepper Soup
Butternut squash Soup
Posole
Beans 1 pint for 4-6 people $10
Wisdom's Refried beans
Wisdom's Whole pinto beans
DOS vegan Black beans
DOS refried bacon beans
Rice 1 pint for 4-6 people $10
DOS vegan cilantro rice
Wisdom's Mexican red rice
Tortillas $3
1 pack of 24 corn tortillas
1 pack of 12 flour tortillas
Ice Cream by the pint $11.50
call us for flavors that include Tequila Sea Salt, Chocoflan, Strawberry Cheesecake and more
Alcohol ~ please call us for prices on beer, wine by the bottle, margaritas
THANK YOU FOR YOUR SUPPORT and allowing us to serve you!
We are humbled by the love you have shown us.
Giant abrazos,
Celeste
*Menu and prices subject to change*
In 1944 Howard and Petra (Gomez) Wisdom opened the doors to Wisdom's Cafe, alongside the old Nogales Highway, never imagining that their little cafe was destined to become a dining tradition three generations strong.
Because Petra's father was a property owner in Tumacacori and gifted parcels of his land to his children and their spouses, the cafe is in a lovely location with a view of the Tumacacori Mountains to the west and the Santa Ritas to the east. It started out as an L-shaped little place that served breakfast and housed a rowdy bar. And since Howard was a natural born cowboy and an athlete in the saddle, alongside the cafe he soon built a roping arena where bulldogging and rodeo champions came from around the U.S. and Mexico to show off their skills.
Eventually the building grew to its current size with, as Petra recalled, a little help from the workers building Interstate 19. Howard and Petra provided a great breakfast and lunch and the guys helped Howard pour the floor in the bar. Sadly, the official opening of I-19 in 1979 forced many wonderful businesses to close their doors, including Wisdom's Cafe, because of the loss of traffic. Fortunately in 1980, the Wisdoms' son, Herb, and his wife, Irene (Pesqueira), agreed to return home from Long Beach, CA, where they'd lived for 20 years, to help Howard and Petra give new life to the cafe. Herb asked his sisters, Jennie Belle and Linda, and his brother, Jesse, to help, too. It became a family affair, including the priceless Frances, whose generations-old recipes make our mouths water, and wonderful Barbara, without whom the business could never have grown and Irene'ss mom, Ana, who cooked and shredded and sliced and diced for years. These folks turned the cafe into the place you see today. They were even written up in the New York Times!
As for the fruit burro, legend has it that one afternoon, quite by accident, a tortilla spread with jam fell into some hot cooking oil and thus the now world famous fruit burrito had its start. Both the yummy fruit burro and the delicious chimichanga have helped make Wisdom's a dining tradition for locals and travelers alike. And by making the cafe a completely non-smoking restaurant in 1982, way ahead of any ordinances, Herb and Irene encouraged the residents of the growing retirement town of Green Valley to patronize their place. By word-of-mouth the Wisdoms' reputation for friendly service and great food began to spread.
Today you will see the next generations here! Many customers, most of whom the Wisdoms consider family, watched Herb and Irene's sons, Richard and Cliff, grow up to help their folks with the place and warmly welcomed Cliff's wife, Celeste (Martin), who was born and raised in Nogales, AZ, into the fold. Cliff and Celeste took over the management of the cafe 15 years ago. Many of you were on hand when their daughter, Sasha Noelle, was born and have since enjoyed her company at your table as a guest/interloper then a busser/server. She is the fifth generation to live on this land and was joined by her baby brother, Griffin Ford, in August 2004! Sasha was a busser and server until her graduation in 2018 and is now a student at the U of A in Tucson.
If you can, take a moment to wander around the cafe and enjoy the family heirlooms & antiques collected by Howard, Herb, Cliff & Celeste, many lovingly entrusted to the Wisdoms by customers. You'll see paintings by Aunt Jean, Aunt Jennie Belle & customers, murals by Uncle Jesse, photos of family, friends and customers and trophies and medals won by Herb & Cliff and their fastball team, Si Senor. Admire Native American pottery found in our Santa Cruz River, cowboy memorabilia, Herb's knife collection, beer steins, typewriters, snow shoes, Cliff's Little League uniform, antique cameras, antique dolls, Sasha and Griffin's bassinet/buggy and countless other treasures. And don't forget to check out the artwork in the powder room, ladies!
Please make yourselves at home and discover why Wisdom's has been featured in numerous magazines, newspaper articles, travel guides & on numerous internet sites.
We hope you will enjoy your visit with us!
The Wisdoms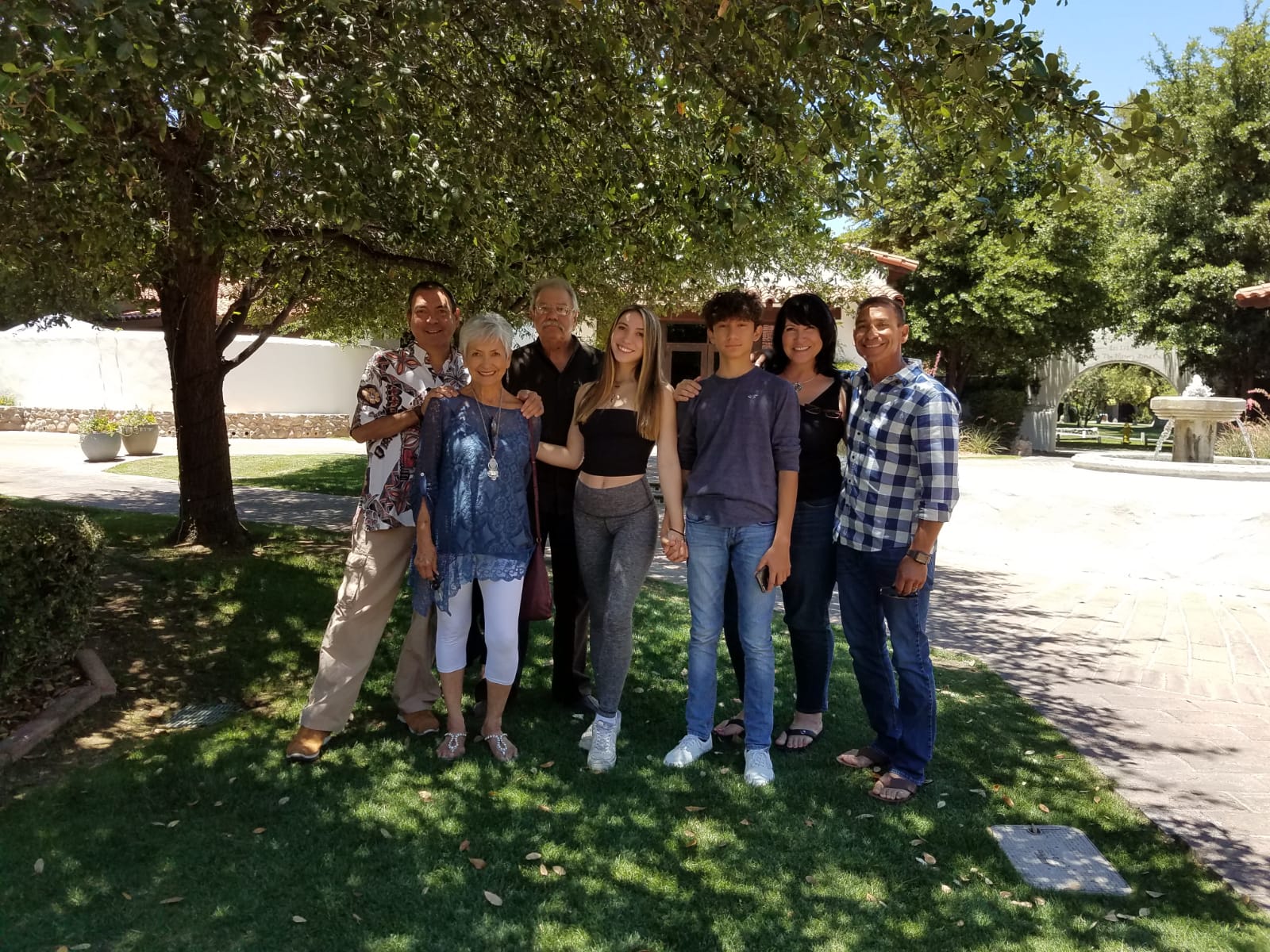 GETTING HERE
You can navigate here by entering the following into your map app

Wisdom's Cafe, 1931 East Frontage Rd., Tumacacori, AZ
OR
FROM TUCSON, SAHUARITA, GREEN VALLEY OR AMADO

1. Take I-19 south and take the 2nd Tubac exit #34
2. Turn left at the stop sign so you drive under the bridge
3. Turn right at the next stop sign onto the Frontage Rd. and drive about 3 miles until you see Wisdom's and the big white chicken on your left
FROM NOGALES OR RIO RICO
1. Take I-19 north and take the Tumacacori exit #29
2. Turn right at the stop sign
3. Turn left at the next stop sign onto the East Frontage Rd. and drive about 1 mile until you see Wisdom's and the big white chicken on your left

Celeste sends out a newsletter each week detailing specials and other events happening in our community!
TUBAC & SURROUNDING AREA SUMMER HOURS
Hours listed, as well as any updates, are provided by each individual owner and as such, cannot be guaranteed so we recommend you call.
TUMACACORI
+Wisdom's Cafe closed all June/partial July ~ reopens July 22 Mon-Sat 11-3 P.M. & 5-8 P.M.
*+Santa Cruz Chili * Spice, INC summer hours Mon-Fri 8 am – 5 pm Sat. 10 am – 3 pm closed Sun. & holidays
+Casa Paloma B & B we are closed now until July 14th but then will be open everyday as usual
TUBAC'S LA ENTRADA SHOPPING PLAZA
*+Wisdom's DOS Mon-Thur 11-6 * Fri/Sat 11-7 * Sun 11-5
*+Edward Jones 8:00 - 4:00 M-F all year long
*+Tubac Deli is open normal hours 6:30am to 5pm everyday
*+art gallery H open 10am -5pm 7 days a week all year round. We only close for 5 major holidays; Thanksgiving day, Christmas Day, New Years Day, Easter Sunday and 4th of July
*+Tumacookery is open daily 10am - 5pm. We will be closed on the 4th of July
+The Community Foundation hours are Monday - Thursday 9am to 3pm.
+Tubac Chamber of Chamber Tuesday - Thursday 9am - 2pm.
+Udall Law Firm hours are Wednesdays 9am to 4pm
+Valley Assistance Services hours are Monday, Wednesday and Friday 10am-3pm
+Manos Gallery is open daily 10 ish to 3 ish Possibly closed on some Mondays for deliveries
*+Michelle's Gallery open everyday 10-5
+Untamed Confections Fri-Mon 11-4
+Chantal will remain open 7 days a week
+Renuar will be closed for the month of July and August
TUBAC
+Cocosh Boutique open Wed-Sun 11-5
*+Tubac Old World Imports (the rug store) and The Wild Rose (greeting cards and gifts) are open 11-4 daily but closed 4th of July
*+CASA MAYA DE MEXICO (both locations) 14 Tubac Rd. & 16 Plaza Rd.
OPEN DAILY 11-4 Closed only on Thanksgiving, Christmas, New Year's and Easter
*+Russ Lyon/Sotheby's International Realty & The Brasher Team ~ we are here generally every day but Sunday. Usually here around 7 and then close down about 4
+Lee Blackwell Studio is open by chance or appointment
*+Tubac Sunflower we are open for those crazy enough to camp. Have several sites with shade
+The Tubac Historical Society is open at the community center on Wednesday and Thursday from 10 am until 2pm
+Tubac Country Inn We are open july 1 until next year june 1 2020
*+The Mariposa Tubac Regional Health Center does not modify hours in the summer and hours remain the same Mon, Wed – Friday: 8am – 4:30pm Tuesdays: 9am – 4:30pm
Closed Saturday/Sunday (patients may go to our Nogales location – 1852 N. Mastick Way) for Saturday triage
*+Turquoise Tortoise on Calle Baca is open every day 10-4
+Tubac Center of the Arts will say goodbye to all the students here for Summer Arts on June 27th. We will be closed in July for facilities updates, painting, and repair. Please join us for the Opening Reception on Friday, August 2nd when we reopen the Gift Shop and Galleries
*+Sole Shoes is open 11-4 Mon-Sat, 12-4 Sun
+Hal Empie Gallery June hours: TFSSUN 11 to 4 and by appointments
July hours: FSSUN 11 to 4 and by appointments
+The Artist's Daughter summer hours: Saturdays 11 to 4
+La Cucaracha 11 to 4 pm daily & closed on the 4th of July
*+Crowe's Nest summer hours are Mon-Sat. 10-4 and Sun. 11-4
+Kuzara Studio is open at the Lowe House Thurs-Sat 11-4, Sun Noon-3
+Dos Corazones open Thursday thru Sunday 11 to 4
+Viola Jo Studio
Monday: open for classes 10-12 and 2-5
Tuesday and Thursday: by appointment
Wednesday, Friday, Saturday: 11-3
Sunday: 12-3
+La Paloma open Tues to Sun 10 to 5
+Casa de Tesoro Tues - Sun 11-5 (sometimes later)
+The Bird House summer hours: closed until July 19 then open Wed-Sat 11-4
+La Esplendida on Hesselbarth, next door to Tubac Jack's, is open Wed - Thurs from 10 - 3 through August. We WILL BE OPEN 4th of July. Open 7 days a week 10 - 5 beginning September 1st
+Mariah's hours are 11-4 Monday thru Saturday for the summer
+Art of Beauty 12 B Tubac Road Tuesday-Saturday 10-4pm
+Tubac Art and Gifts ~ we are open every weekend (Friday, Saturday, and Sunday) 11-5pm. Open July 4th. Open Labor Day
Visit our Tubac location opened in 2013 and expanded in 2018!