TEMPORARILY CLOSED FOR OUR SUMMER BREAK! OUR TUBAC LOCATION IS OPEN ~ call (520) 216-7664 for Wisdom's DOS hours or www.WisdomsDOS.com
WE WILL REOPEN TUESDAY, JULY 27.
RESERVATIONS RECOMMENDED IF YOU ARE 5 OR MORE
TEXT YOUR EMAIL ADDRESS TO (520) 398-2397 TO BE ADDED TO OUR NEWSLETTER FOR UP-TO-DATE
WISDOM'S NEWS AND GREAT SPECIALS
WISDOM'S CAFE


tumacacori, az

HOME OF THE WORLD FAMOUS FRUIT BURRITO
& award-winning margaritas

To order carry out: call (520) 398-2397 and order for a later pick up if you wish!
We will return your call in the order it was received ~ no need to keep calling!
Text your email address to (520) 398-2397 to be added to our newsletter for updates on our schedule and awesome specials!
*Menu and prices subject to change*
In 1944 Howard and Petra (Gomez) Wisdom opened the doors to Wisdom's Cafe, alongside the old Nogales Highway, never imagining that their little cafe was destined to become a dining tradition three generations strong.
Because Petra's father was a property owner in Tumacacori and gifted parcels of his land to his children and their spouses, the cafe is in a lovely location with a view of the Tumacacori Mountains to the west and the Santa Ritas to the east. It started out as an L-shaped little place that served breakfast and housed a rowdy bar. And since Howard was a natural born cowboy and an athlete in the saddle, alongside the cafe he soon built a roping arena where bulldogging and rodeo champions came from around the U.S. and Mexico to show off their skills.
Eventually the building grew to its current size with, as Petra recalled, a little help from the workers building Interstate 19. Howard and Petra provided a great breakfast and lunch and the guys helped Howard pour the floor in the bar. Sadly, the official opening of I-19 in 1979 forced many wonderful businesses to close their doors, including Wisdom's Cafe, because of the loss of traffic. Fortunately in 1980, the Wisdoms' son, Herb, and his wife, Irene (Pesqueira), agreed to return home from Long Beach, CA, where they'd lived for 20 years, to help Howard and Petra give new life to the cafe. Herb asked his sisters, Jennie Belle and Linda, and his brother, Jesse, to help, too. It became a family affair, including the priceless Frances, whose generations-old recipes make our mouths water, and wonderful Barbara, without whom the business could never have grown and Irene'ss mom, Ana, who cooked and shredded and sliced and diced for years. These folks turned the cafe into the place you see today. They were even written up in the New York Times!
As for the fruit burro, legend has it that one afternoon, quite by accident, a tortilla spread with jam fell into some hot cooking oil and thus the now world famous fruit burrito had its start. Both the yummy fruit burro and the delicious chimichanga have helped make Wisdom's a dining tradition for locals and travelers alike. And by making the cafe a completely non-smoking restaurant in 1982, way ahead of any ordinances, Herb and Irene encouraged the residents of the growing retirement town of Green Valley to patronize their place. By word-of-mouth the Wisdoms' reputation for friendly service and great food began to spread.
Today you will see the next generations here! Many customers, most of whom the Wisdoms consider family, watched Herb and Irene's sons, Richard and Cliff, grow up to help their folks with the place and warmly welcomed Cliff's wife, Celeste (Martin), who was born and raised in Nogales, AZ, into the fold. Cliff and Celeste took over the management of the cafe 15 years ago. Many of you were on hand when their daughter, Sasha Noelle, was born and have since enjoyed her company at your table as a guest/interloper then a busser/server. She is the fifth generation to live on this land and was joined by her baby brother, Griffin Ford, in August 2004! Sasha was a busser and server until her graduation in 2018 and is now a student at the U of A in Tucson.
If you can, take a moment to wander around the cafe and enjoy the family heirlooms & antiques collected by Howard, Herb, Cliff & Celeste, many lovingly entrusted to the Wisdoms by customers. You'll see paintings by Aunt Jean, Aunt Jennie Belle & customers, murals by Uncle Jesse, photos of family, friends and customers and trophies and medals won by Herb & Cliff and their fastball team, Si Senor. Admire Native American pottery found in our Santa Cruz River, cowboy memorabilia, Herb's knife collection, beer steins, typewriters, snow shoes, Cliff's Little League uniform, antique cameras, antique dolls, Sasha and Griffin's bassinet/buggy and countless other treasures. And don't forget to check out the artwork in the powder room, ladies!
Please make yourselves at home and discover why Wisdom's has been featured in numerous magazines, newspaper articles, travel guides & on numerous internet sites.
We hope you will enjoy your visit with us!
The Wisdoms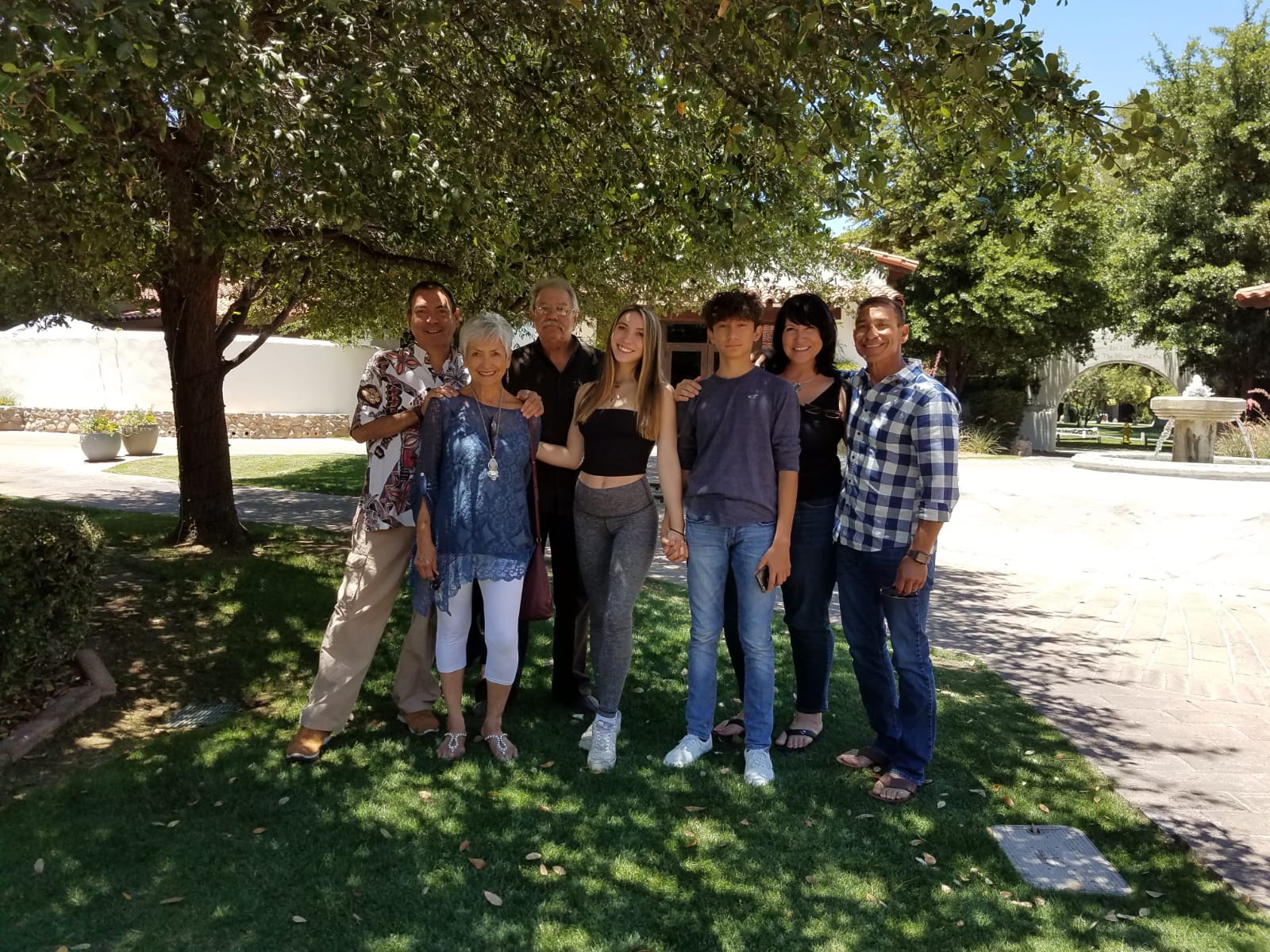 GETTING HERE
You can navigate here by entering the following into your map app

Wisdom's Cafe, 1931 East Frontage Rd., Tumacacori, AZ
OR
FROM TUCSON, SAHUARITA, GREEN VALLEY OR AMADO

1. Take I-19 south and take the 2nd Tubac exit #34
2. Turn left at the stop sign so you drive under the bridge
3. Turn right at the next stop sign onto the Frontage Rd. and drive about 3 miles until you see Wisdom's and the big white chicken on your left
FROM NOGALES OR RIO RICO
1. Take I-19 north and take the Tumacacori exit #29
2. Turn right at the stop sign
3. Turn left at the next stop sign onto the East Frontage Rd. and drive about 1 mile until you see Wisdom's and the big white chicken on your left

Celeste sends out a newsletter each week detailing specials and other events happening in our community! Text us your email address to (520) 398-2397 and we'll add you!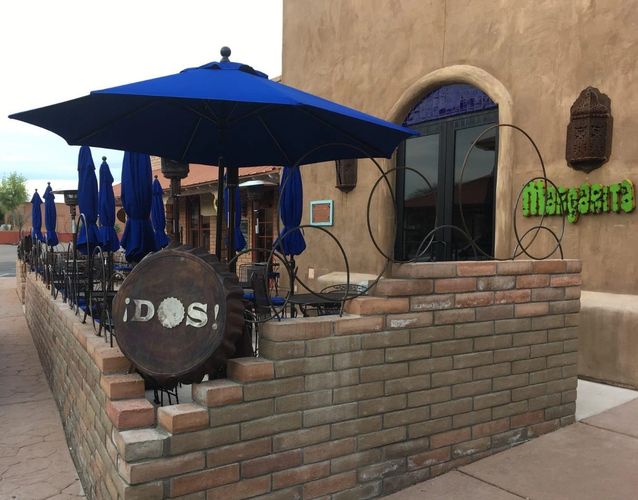 Visit our Tubac location opened in 2013 and expanded in 2018 and again the summer of 2020 as we are now a full service restaurant with a beautiful mesquite bar and a beautiful patio! Call (520) 216-7664 or www.WisdomsDOS.com